Works on the A4 motorway, section Katowice-Kraków
Works in the A4 motorway, Katowice-Krakow section
until 30 July narrowings to one lane along the entire motorway on very short sections - works on road surface,
replacement of the road surface on the slip roads of the Jelen junction at km 360 of the A4 motorway and on the transverse road in Jaworzno. Traffic organization in the area of ​​the junction will change. Detour routes are organized. From 28 June to September, the slip road of the Jeleń junction from Katowice to Jaworzno will be closed (exit from the carriageway towards Kraków). The detour was marked by the Balin junction at km 369.5 and the Byczyna junction at km 365.5 The completion of the renovation is scheduled for the end of November 2021.

6-7 July (Tuesday-Wednesday) from 9:00 a.m. until the evening hours, narrowing to one lane of approx. 300 m in the following locations on the carriageway to Krakow:

- behind the Balin junction (km 370.5 in the area of ​​the Chrzanów junction),

- behind the toll plaza in Mysłowice (km 363, km 364 and km 365.5),
Contacless, safe methods of payment
We encourage our customers to use safe, contactless automatic methods of payment: electronic toll collection A4Go & Telepass and also videotolling with Autopay application (in English as well), SkyCash or IKO applications available at Google Play and App Store.
For users of automatic methods of payment there are special, dedicated toll gates marked as in the table below (orange gates).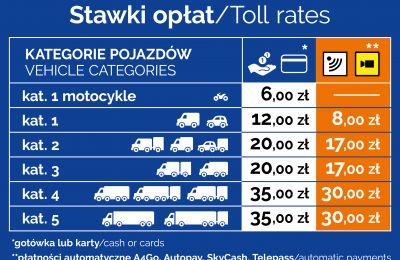 The above mentioned tolls apply at one toll plaza.
More infornmation: www.automatycznaa4.pl
More information on videotolling: https://www.autostrada-a4.com.pl/pl/oplaty/odczyt-tablic-rejestracyjnych-videotolling
More information on A4Go: https://www.autostrada-a4.com.pl/pl/oplaty/elektroniczny-pobor-oplat-a4go