kartA4
This card allows you to pay the toll for driving on the A4 motorway (Katowice-Kraków). Driving through toll plazas is reflected by card credits on the user's personal account. One credit allows to drive through a single toll plaza, in Mysłowice or Balice. Credits can be purchased at any time and are sold in credit packages allowing to drive through toll plazas more than a dozen times.
KartA4 has been designed especially for drivers who regularly attend the A4 motorway (Katowice-Kraków).
If you are a registered user, you can purchase cards and credits on-line on www.a4go.pl (in Polish only) They are also available at points of sale in Mysłowice and Balice.
Benefits of holding a kartA4
driving through toll plazas faster
one invoice por many passages
Types of cards
Card for 1 category vehicles
two - axle road vehicles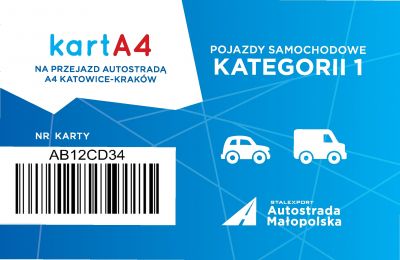 Card for 2 category vehicles
road vehicles with two-axles, of which at least one is equipped with the twin wheel and two-axle road vehicles with trailers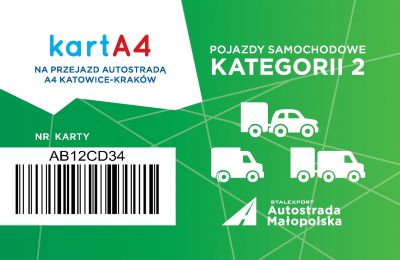 Card for 3 category vehicles
three-axle road vehicles and two-axle road vehicles of which at least one is equipped with the twin wheel with trailers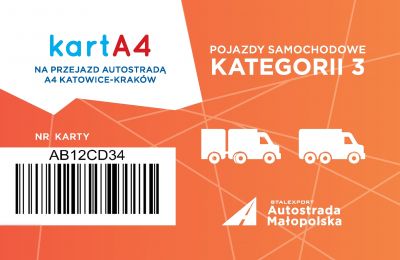 Card for 4 category vehicles
road vehicles with more than three axles and three-axle road vehicles with trailers, road vehicles with more than three axles with trailers