Advice for drivers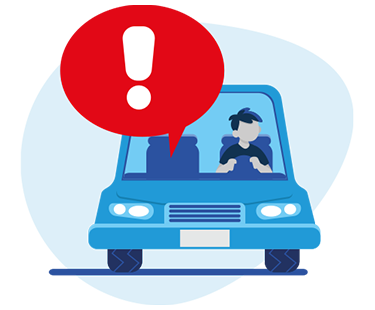 Commandments of safe motorway use for drivers and motorcyclists.
Driver, please remember!
Often look in the mirrors. Rapidly accelerating motorcycles are only visible in the mirror at the last moment. In this way you will avoid sudden reactions.
The reaction of a motorbike on the road is different than that of a car. If you are following a motorcycle, keep safe distance, particularly in bad weather.
If you notice an obstacle on the road and you are obscuring the view of a motorcyclist following you, give them time and chance to react properly.
A motorcycle fits fully into the so-called dead spot. Before you change lane, look in the mirrors at least two times and make sure the manoeuvre will be safe.
If you are stuck in a traffic jam, leave space between lanes so that bikers can safely go past you. Traffic regulations let them do it.
Biker, please remember!
The motorway is not a racing track. Remember about other road users and watch their behaviour closely.
When overtaking, consider gusts of wind and turbulent flow around vehicles. Keep a safe distance.
Try not to surprise drivers. Indicate all manoeuvres well in advance. Give the car driver a chance to notice you and it will be also easier for you to predict their actions.
Most bikers are also car drivers. When you are riding a motorcycle, remember about the habits of these drivers who are still getting accustomed to the presence of motorcycles.
You are not protected by a car body. Even the best protective clothing may not save your life.