Videotolling
Toll collection which uses registration plate images (so-called videotolling) is an excellent and simple solution for drivers who use the A4 Katowice-Kraków motorway from time to time, for example on their way for holidays or a long weekend, as well as for these ones who travel regularly.
You just have to:
You can enjoy fast and cheaper passage at toll collection plazas in Mysłowice and Balice through specially marked motorway toll gates.

Three outer left gates and two gates at the toll collection plaza on the right.

Information on toll rates for videotolling (Autopay/ SkyCash/ IKO): click.
Tolls are collected at two toll collection plazas mentioned above: half at entry gate and half at exit gate. For example, payment card of a driver who travels from Katowice to Kraków in a passenger car will be charged PLN 13 at toll collection plaza in Mysłowice and PLN 13  at toll collection plaza in Balice (instead of PLN 15 at each toll plaza).
Videotolling gates are marked like this: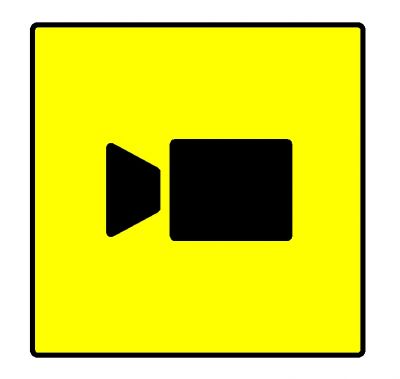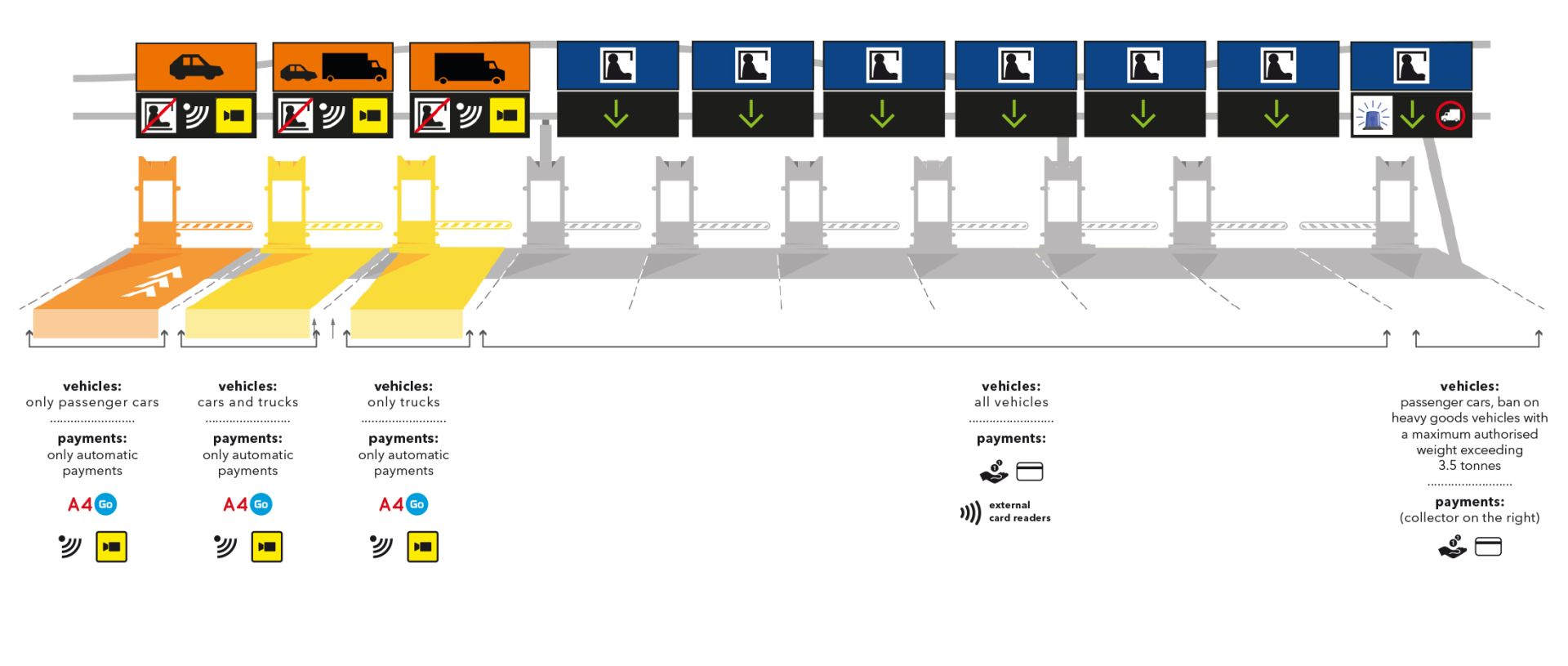 ATTENTION!
In order to correctly read the license plate by the camera, stop the vehicle in front of the white line, next to the collector's cabin window, otherwise the barrier will not rise
Drivers of passenger vehicles as well as light commercial vehicles and heavy goods vehicles (category 1 vehicles with the exception of motorcycles and category 2, 3, 4 and 5 vehicles) can use Autopay /SkyCash /IKO/ mPay applications at the A4 Katowice-Kraków motorway.
There is no need to carry a phone with the Autopay / SkyCash/ IKO/ mPay application. Cameras read the registration numbers and the toll collection system checks whether a vehicle with given plate has already been registered. A driver may only pass through the gate only if there is a green light on the left side of the lane and if the barrier is raised.
Benefits:
fast passage through the toll collection plazas due to designated and specially marked gates,
cheaper passage on the A4 motorway, Katowice-Krakow section,
no additional activities needed, which means that you do not have to open your window or hand card or cash to the collector,
no long queues for gates with a camera symbol,
immediate transaction,
you can view all passages through the toll collection plazas and tolls paid at your account in the Autopay / SkyCash/ IKO/ mPay application,
companies may receive one invoice for many passages from Autopay operator, namely Autopay Mobility. It is no longer necessary to collect receipts from motorway gates and settle each of them separately.
Please note: if you by accident or due to emergency enter the lane without videotolling sign:


inform the collector that you want to pay the toll using the Autopay /SkyCash / IKO/ mPay application, 
wait until the collection launches this payment type,
wait until your registration plate is read, for green light and raised barrier.
Please note: if the barrier is not raised, toll will be collected by the collector (payment in cash or by card). In such case you have to check:
if there are funds on the payment card assigned to the account in the Autopay / SkyCash/ IKO/ mPay application or/and
if the registration plate is not dirty or damaged.
Attention! If you want to pay for the journey in cash or with a bank card on the lane dedicated to videotolling, marked as shown above with a black camera on a yellow background, inform the collector about it.
Contact details - complaints and questions regrading videotollig applications