Campaign 2012 "A + B = Absolutnie Bezpieczni" (Absolutely Safe)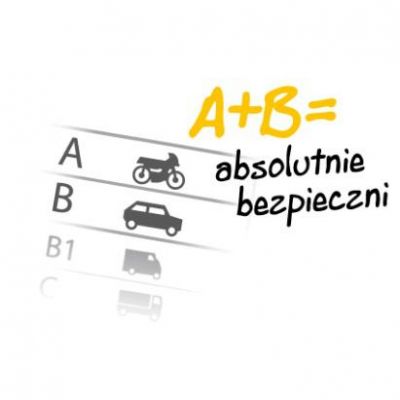 The campaign "A+B = Absolutnie Bezpieczni" was dedicated to bikers and car drivers.
The Polish Biker Association MotoAutostrada was the partner of the action.
According to Polish statistics, over 40 thousand road accidents took place in 2011, with bikers involved in 2.4 thousand of them. Bikers were responsible for almost half of these incidents while 42 per cent of them were caused by drivers. Almost as many accidents were the result of not giving the motorcyclists the right of way, as the result of speeding.
The campaign was conducted directly on the A4 Katowice-Krakow, in the cities of Krakow and Katowice and on the Internet.
"A+B = Absolutnie Bezpieczni" was inaugurated with a happening in Krakow, where pantomime actors made-up as crash-test dummies presented accident statistics with the involvement of bikers and drivers. During the happening leaflets informing about the action were also distributed. After the Krakow happening finished, the actors moved to the toll plazas in Balice and Myslowice on the A4 Katowice-Krakow, where they distributed leaflets reminding about the principles of safe driving.
Lovers of motorcycles and cars were also engaged in the campaign – including e.g. Maciej Balcar – a musician, actor and singer in the "Dżem" band – who appeared in short recordings sharing their thoughts with drivers.
As part of the campaign "A+B = Absolutnie Bezpieczni" a competition for Facebook users on the action's profile was also conducted. Each participant faced a few questions concerning traffic safety. Five people with the best knowledge shared in the shortest time got prizes: a bluetooth car speakerphone or a multifunctional intercom for a motorcycle.