Campaign 2011 "It's not a dream, you are driving"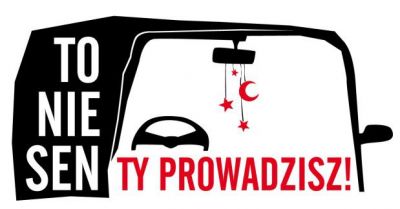 "It's not a dream, you are driving" was the slogan for the campaign initiated by Stalexport Autostrada Malopolska S.A. that was to draw the attention of drivers to the dangers of fatigue behind the wheel. The impulse for the campaign was the celebration of the 100 millionth driver using the A4 Katowice-Krakow.
According to statistics one in ten drivers have ever fallen asleep behind the steering wheel. Drivers feel particularly drowsy in autumn when they drive outside developed areas and on motorways.
Motorways are those special routes where the risk of falling asleep behind the steering wheel is greater than on other roads, due to monotonous driving a straight stretch. When travelling on a motorway it is particularly important to check fatigue level and prevent drowsiness. Tired drivers are as dangerous as drunk drivers. Fatigue leads to lowered concentration, slower reflexes or weakened ability to evaluate speed and distance on the road. It is easy to lose control of the vehicle then. The educational campaign "It's not a dream, you are driving" had the form of a competition for drivers.
Drivers travelling the A4 Katowice-Krakow got leaflets with tips on how to deal with fatigue when driving and how to join in the campaign, distributed at toll plazas. Frequent users of the A4 buying subscription coupons were able to have a free cup of coffee at the Customer Service Point in Myslowice. Besides, to pluck up the energy of drivers travelling at the long weekend in November in the morning and in the afternoon drivers entering the motorway at the toll plazas got coffee candy with caffeine by Kopiko - a partner of the campaign "It's not a dream, you are driving".